Best Live In Care agency In Somerset
Safehands Live In Care Somerset Specialists in providing 24 Hour Care in your own Home Tailored to Your Needs
Safehands Somerset Live in care
Safehands provides a live in care service in England. We provide live-in care in Somerset with 24-hour carers and locally managed offices, you can be assured that we maintain a high level of care quality at all times. Our live in care service is highly trustworthy, we've received a rating of "Good" by the 
Care Quality Commission
 (CQC). This proves that our dedication to care is fully comprehensive – we can look after many different adults with varying and unique needs. From administering all types of standard and personal care to administering more complex care, medication and emotional support, care with Safehands live in care is a high-quality option for 24-hour care in England.
Our carers are trained to deal with a number of complex and progressive conditions including, but not limited to, disability induced by stroke or accident, Parkinson's disease, multiple sclerosis and dementia. Since live-in care is 24 hour, it provides peace of mind that a carer is always on hand to look after the client. The clear and obvious benefit of this is that care can be provided from one's own home.
What Does Live-in Care Involve?
The primary thing that defines live-in care is that it provides 24-hour care at home. This allows clients to stay in their property. The main point of differentiation between this and normal care is the touch-time spent with the client. For example, normal care may be provided either frequently or infrequently throughout the week. 24-hour care is round-the-clock, thus offering peace of mind knowing the client has company all throughout the day and night. Also, Safehands is dedicated to providing emotional support in addition to standard care – since 24-hour carers live with the client, they can form strong bonds and relationships.
24-hour care is ideal for many adults, either the elderly or those suffering from complex or progressive conditions. 24-hour care provides trust and assurance, it covers the full spectrum of standard care with the additional benefits of the company and emotional support.
The Key Differences of Live-in Care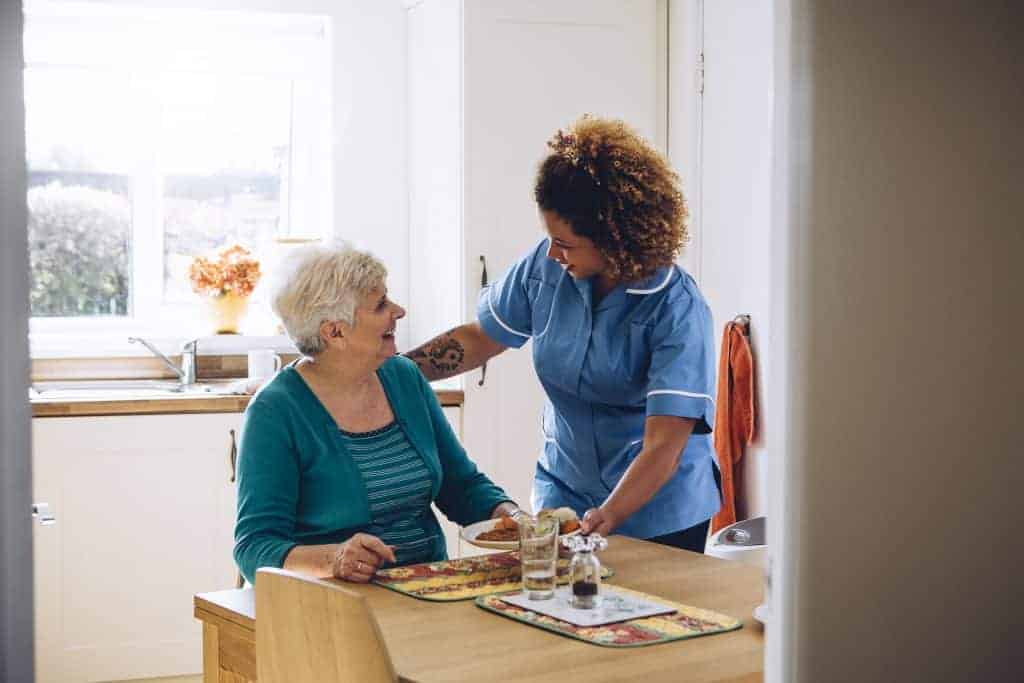 Live-care is different to normal care due to the fact live-in carers can provide 24-hour care at home. Safehands live-in care in Somerset goes beyond bic levels of normal care, we can administer medication and provide varying types of personal care. Not only can we provide for a diverse array of conditions in many adults, we can also provide emotional support and companionship. This, together with the fact clients can live in their own home forms the two primary benefits of live-in care. Loneliness is obviously a big issue and this is intensified by the stress of caring for oneself. Live-in care can help rectify this to provide a full spectrum of care benefits.
Safehands tailor plans to a client's needs. We will work with you to come up with a care plan and routine that meets your every expectation and requirement. We can interface with healthcare professionals to learn more about the unique requirements of the client and our carers will be specifically chosen for their care skills.
Our care service is managed in local offices. Therefore, we provide an extra layer of assurance. We check and manage every live-in carer to ensure quality. This includes checking primary care objectives such as personal care and medication administration and also the general contentment and happiness levels of the client.
Live-in care in Somerset is more affordable than you might think, especially when compared to residential care homes.
Read on to learn more about who live-in care is best suited for:
Those Already Receiving Hourly Care
Hourly care is a standard or common form of home care. Usually involving hour visits carried out either by social services or care workers, hourly care involves regular visits, often by different carers. The costs of this can rise sharply, primarily due to the fact that multiple carers operate multiple visits from different agencies. Here, in this particular scenario, 24-hour care at home can actually result as more cost-effective. Also, given its added benefits, it becomes a much better option for home care on balance.
Our 24-hour care service usually uses 2 carers who operate in four-week rotas. So, the main carer will spend four weeks with the client and the cover carer will take over for a week or two. This allows the client to build long-term relationships and familiarity with the carers.
Live-in care in Somerset with Safehands suits couples very well. Firstly, residential care for couples can be steep due to the fact that you'll have to pay for a double room and two sets of care routines. 24-hour care at home represents better value and given the crucial benefit that home-care takes place at home in the property the couple is familiar with, it represents a much better option than residential care.
Live in Care After Hospital Discharge
Care may be required immediately following hospital discharge. Live-in care here can be a sustainable and long-lasting option. Safehands' live-in care service in Somerset can put in care packages for post-discharge clients. This involves meetings with healthcare professionals to establish requirements for care and healthcare outcomes.
Safehands can cater to individuals suffering from a wide spectrum of complex or otherwise progressive conditions. These include conditions such as dementia, movement diseases like Parkinson's disease or ALS, disability induced by stroke, etc. Here, live-in care may be far preferred to residential care and the 24/7 proximity of a carer can provide peace of mind and familiarity, both of which are invaluable to a client's wellbeing.
Falls are a regular cause of hospital admission and are best avoided at all costs. Falls can have many impacts and can intensify existing health problems or create new ones. 24-hour care helps mitigate the chance of falls. A live-in carer can help prevent accidents and if one did occur, they can quickly and efficiently call for medical advice or support.
How Do I Begin Live in Care in Somerset?
Safehands are here to answer all types of questions and queries surrounding live-in care in England. We are available on our local number –
0203 417 0090
, our London headquarters number, on the other hand, is
0208 617 8113
. For further information please visit our website at
www.safehandsliveincare.co.uk
. Our expert team of carers and healthcare workers are friendly and always glad to assist.
Assessing your home care needs
After you've reached out to Safehands, we will make a full assessment of your care needs and requirements. Our local care manager in Somerset will visit your house or another type of care setting. We will work with you to establish a care package you trust.
Making a personal care plan
After assessment and care plan drafting, we will finalise a comprehensive care plan that is tailored to the exact requirements of each individual. We will work alongside you to itemise every care requirement through from standard personal care to specialised care.
Matching you up with your live in carer
The final step is matching the client with the best carer. Our live-in carers in Somerset are specialised in providing 24-hour live-in care. We will arrange a meeting with the carer and once you're happy with the candidate, we will introduce them to the client before beginning the care plan.
Talk to our friendly care advisors about your care needs. Calls from landline are free.